There are several ways to look up our batteries.
Use this link to the AcDelco parts lookup, or our BCI chart.
Here are some instructions, with pictures, on how to use the site too look up your battery. I will demonstrate by looking up a battery for an 01 Hyundai Tiburon.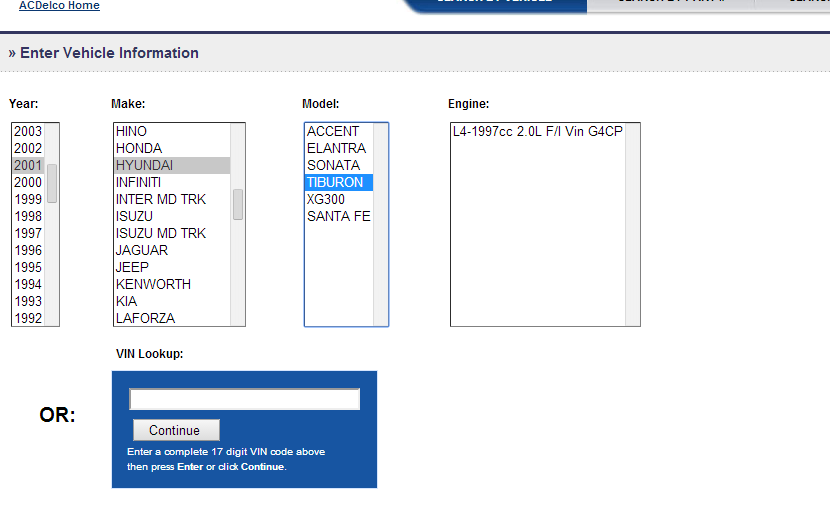 First you enter the year of your vehicle (2001). Then enter your make (Hyundai). Then you enter your model (Tiburon). Finish up by entering
your engine size. In this example there is only one engine size. You can also enter in your 17 digit vin number in the box in the bottom.

After you have chosen your vehicle, you will click on the "Electrical" group, and then the "Batteries" subgroup.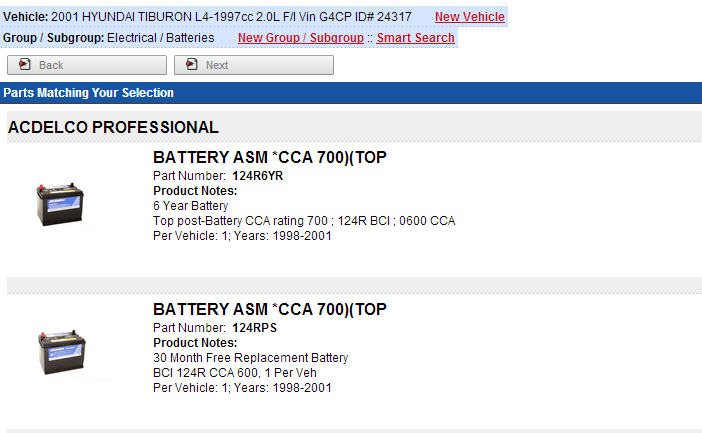 Once you have made it this screen, read your "BCI Number." In this case it is "124R."
Finally once you have your BCI number,
find it on the table below. You can hit "CTRL" and the "F" key. and type in your part number to find
it easily. In this case, my battery is $89.96 with a $20 core.
*
All of our batteries are free replacement and are not prorated.
Why would you buy a generic, low quality battery at a higher price?
Our batteries are better and competitively priced!
*
These are the ACDelco batteries we have in stock:
*
121RA GROUP 121R 550 CCA 18 MONTH $102.61 CORE $20
*
24FA GROUP 124R & GROUP 24F 600CCA 18 MONTH $94.37 CORE $20
*
24PS GROUP 24 600 CCA $89.96 CORE $20
*
26RA GROUP 26R 550 CCA 18 MONTH $78.96 CORE $20
*
27PG GROUP 27 750 CCA 42 MONTH $102.11 CORE $20
*
35P GROUP 35 500 CCA 18 MONTH $99.56 CORE $20
*
36RPS GROUP 36R 650 CCA $97.22 CORE $20
*
41A GROUP 41R 685 CCA $111.99 CORE $20
*
51RP GROUP 51R 425 CCA 18 MONTH $107.21 CORE $20
*
59PS GROUP 59 590 CCA 30 MONTH $102.12 CORE $20
*
65A GROUP 65 750 CCA 18 MONTH $99.96 CORE $20
*
75DTPS GROUP 75 630 CCA $105.99 CORE $20
*
75P GROUP 75 550 CCA 18 MONTH $77.95 CORE $20
*
78DTP GROUP 78 GROUP 34 550 CCA 18 MONTH $94.99 CORE $20
*
78PS GROUP 78 700 CCA 30 MONTH $99.96 CORE $20
*
85P GROUP 85 530 CCA 18 MONTH $89.99 CORE $20
*
86P GROUP 86 525 CCA $117.96 CORE $20
*
90A GROUP 90 590 CCA 18 MONTH $114.99 CORE $20
*
94RPS use BXT94R (Motorcraft ) GROUP 94R 36 MONTH CCA 765 $139.99 CORE $20
*
96RP GROUP 96R 550 CCA 18 MONTH $96.02 CORE $20